Interactive Self-Adjustment Tool & Discomfort Survey
Elevate Your Workspace for Optimal Comfort and Productivity
Discover EWI's Interactive Self-Adjustment Tool & Discomfort Survey, where ergonomic excellence begins with a few simple clicks. We understand the importance of a comfortable and safe workspace, and that's why we've created this cutting-edge online tool to empower you in optimizing your ergonomic environment. Say goodbye to discomfort and hello to productivity!
Empower Yourself with Workspace Optimization
Discover the power of our interactive self-adjustment tool that takes you on a guided journey to optimize your workstation. This user-friendly interface will assist you in making adjustments tailored to your unique needs, promoting a more comfortable and ergonomically sound setup.
As you explore the interactive tool, you'll also gain valuable education on proper ergonomic setup techniques. We believe knowledge is key to fostering a healthier workspace, and our tool provides insightful tips and best practices to support your overall well-being.
Personalized Report & Data Contribution
Upon completing the self-adjustment process, you'll receive a personalized report that outlines the recommended ergonomic changes based on your specific requirements. This detailed report serves as your ergonomic blueprint for creating an optimized workspace that suits you perfectly.
In addition to receiving your personalized report, you'll also be contributing to meaningful data for your organization's ergonomic enhancements. By participating in the Discomfort Survey, you play a crucial role in shaping a more comfortable and safer work environment for all.
Transform Your Workspace, Transform Your Experience
By utilizing our Interactive Self-Adjustment Tool and participating in the Discomfort Survey, you'll experience a range of benefits, including increased comfort, reduced strain, enhanced productivity, and reduced risk of ergonomic-related injuries. Say hello to a healthier, happier, and more productive workday!
Experience ergonomic relief at your fingertips. When discomfort strikes, take charge by using our self-guided tool to assess and optimize your office workspace. Gain personalized recommendations for a more comfortable setup tailored to your needs.
Unlock the power of the full Blively platform. For companies with access to live data and reporting, your self-assessment data becomes part of a comprehensive ergonomic dashboard. Join forces with fellow employees' assessments, contributing to data-driven improvements across the organization.
Your well-being matters, and so does your input. As your data integrates into the live dashboard, witness the collective impact of ergonomic adjustments. Track progress, empower your company's safety efforts, and foster a healthier, more productive work environment.
Learn More About What Blively Office Has to Offer
Still Not Convinced? Learn More on How Blivley Can Help Below.
On Demand Ergonomics Training
What courses are right for you?
Live Analytics Dashboard
Our Real-Time Analytics Dashboard goes beyond mere data monitoring.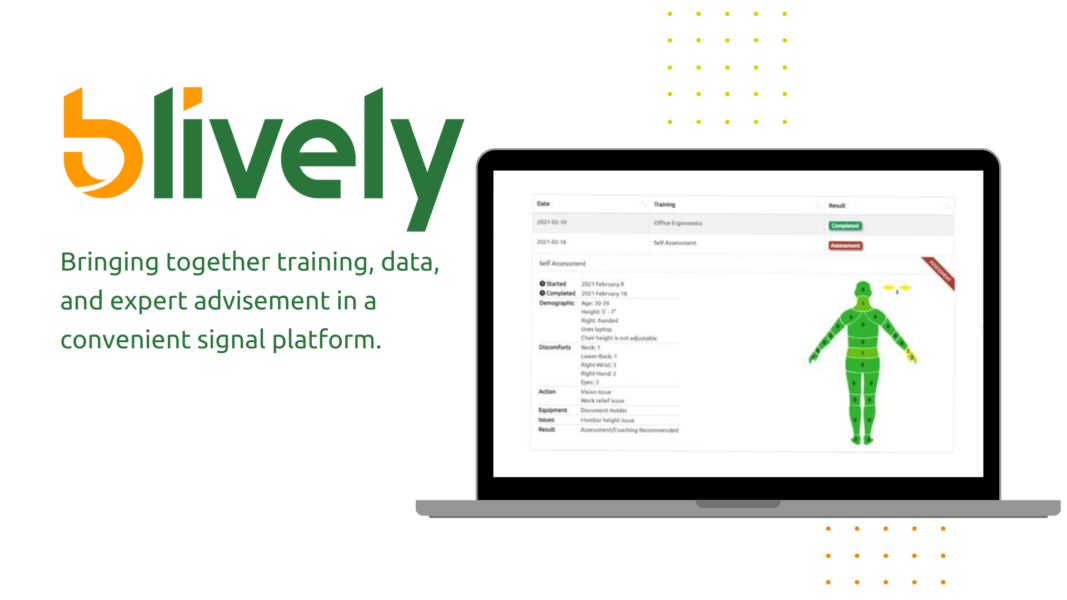 Empower Your Workforce, Elevate Your Workplace
Blively Office is your all-in-one solution to create an ergonomic-driven culture, where safety and well-being flourish. Whether you are an individual looking to optimize your workspace or an organization seeking to enhance workplace ergonomics, Blively Office provides the tools and knowledge you need. Join us on the journey towards ergonomic excellence and experience the positive impact on productivity, employee satisfaction, and overall health.