Built for OHS and HR Professionals
Proactive Ergonomic Risk Management
Our Real-Time Analytics Dashboard goes beyond mere data monitoring; it becomes a proactive tool for ergonomic risk management. Gain valuable insights into employee populations' ergonomic needs, risks, and areas for improvement. Identify high-risk individuals or departments and allocate resources efficiently to mitigate potential issues before they escalate. Foster a culture of proactive care, ensuring your workforce's health, well-being, and productivity remain at the forefront of your organizational priorities.
Book A Demo
Streamlined Employee Engagement
Simplify and streamline employee engagement in ergonomic initiatives. The Real-Time Analytics Dashboard allows you to monitor completion rates of virtual training and self-assessment surveys. Easily identify which employees have completed their training and ergonomic assessments, ensuring comprehensive participation across your workforce. Leverage this data to target outreach efforts, providing support to those who may need assistance and fostering a sense of empowerment among your team.
Book A Demo
Evidence-Based Decision-Making
Harness the power of data for evidence-based decision-making. Our Real-Time Analytics Dashboard consolidates crucial information into actionable insights. Equip your OHS professionals, safety managers, and decision-makers with the knowledge they need to make informed choices. By basing decisions on real-time data and trend analysis, you can implement targeted ergonomic interventions, allocate resources efficiently, and create a workplace that prioritizes employee health and satisfaction.
Book A Demo
Here is what our clients value most
Based on feedback after thousands of satisfied users
Compliance
Achieve compliance with powerful analytics and insights.
Customizability
Customize your dashboard with a broad choice of modules.
Simple
Keep your program launch efficient and affordable by keeping things simple.
Accessibility
Ensure your program is accessible with Blively Office's option for a verity of languages.
Secure
Maintain security with a web-based solution that is fully secure with options such as single sign-on (SSO).
Understandable
Meet staff where they're at with content that is dispersed in small amounts and progress that can be saved anytime, to keep the process simple and improve retention.
Learn More About What Blively Office Has to Offer
Still Not Convinced? Learn More on How Blivley Can Help Below.
On Demand Ergonomics Training
What courses are right for you?
Interactive Self-Adjustment Tool & Discomfort Survey
Learn about the value of ergonomic data.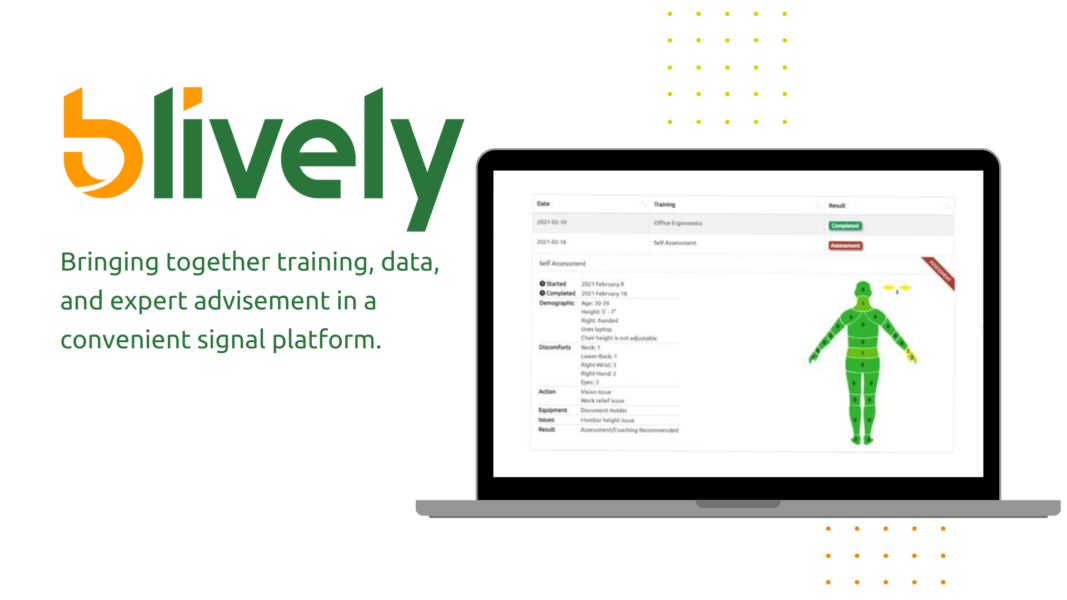 Empower Your Workforce, Elevate Your Workplace
Blively Office is your all-in-one solution to create an ergonomic-driven culture, where safety and well-being flourish. Whether you are an individual looking to optimize your workspace or an organization seeking to enhance workplace ergonomics, Blively Office provides the tools and knowledge you need. Join us on the journey towards ergonomic excellence and experience the positive impact on productivity, employee satisfaction, and overall health.